Posted in
Best Apps
LAST UPDATED: JUNE 8, 2021
Ad blockers are a software tool that blocks ads on a website. There are many websites over the internet that provides their contents free of charge. Most of the website owner shows ads as a way to generate income to earn money. But if you want to remove these ads, we have a whole list of tools to help you remove ads.

1. AdLock
AdLock is one of the best and popular ad blockers for Chrome. It used by many people. This is an extension that is available in Chrome Web Store and you can click Add to Chrome button to easily add this best free Adblock extension for Chrome.
Features:
This tool helps in blocking third-party trackers and protect your privacy.
Customization is also available to only show the ads you like or create a whitelist of sites through the filter.
AdLock is updated very frequently to tackle the latest online ads pop-up techniques.
It supports more than 25 languages.
It is available in Chrome, Firefox, Microsoft Edge, and Safari browser.
Link: https://store.payproglobal.com/
2. Adblock Plus
Adblock Plus is different from AdBlock and they do not have any relation. This is an open-source free ad-blocking program for Chrome that can also automatically block pop-ups and annoying ads on social media and other sites
Features:
This tool allows you to block video ads, pop-ups, flashing banners to make the website load faster,
It also helps to avoid tracking and malware in web browsing.
It is available on Google Chrome, Mozilla Firefox, Microsoft Edge, Internet Explorer, Opera, Safari, and more for free.
Link: https://adblockplus.org
3. uBlock Origin
uBlock origin is the best free ad blocker for Chrome which can also block ads, trackers, and malware sites. It is available for installation in Google Chrome from the Chrome Web Store.
Feature:
It's said that this tool is much less memory-intensive than other similar ad blockers for Chrome.
This tool is available in Chrome, Chromium, Microsoft Edge, and many other browsing sites.
It supports about 49 languages.
Link: https://ublockorigin.com
4. Ghostery
Ghostery is yet another open-source and free google chrome adblocker. It is a privacy and security-related browser extension which protects your privacy at all sphere.
Features:
This tool helps in blocking advertisements from web pages to let you focus on the content you like.
It gives you a faster, cleaner and safer browsing experience.
It uses leading anti-tracking technology to protect your device data from being tracked.
This tool is available as a browser extension on Chrome, Firefox, Edge and Opera.
Link: https://www.ghostery.com
5. AdGuard
AdGuard is a popular ad blocker to get rid of pop-ups, ads, banners, online tracking, malware. This tool positions itself as a lightweight alternative to popular adblockers like AdBlock Plus with its smaller memory footprint. It currently has more than 10 million downloads.
Features:
Due to its smaller memory footprint, it becomes the ideal choice for blocking ads in Google Chrome.
Currently, it has a score of 4,7/5 in the Google Chrome Webstore with more than50k reviews.
AdGuard is a stand-alone ad blocker that is compatible with Windows, Mac, Android, and iOS operating systems.
Link: https://adguard.com
6. AdBlocker Ultimate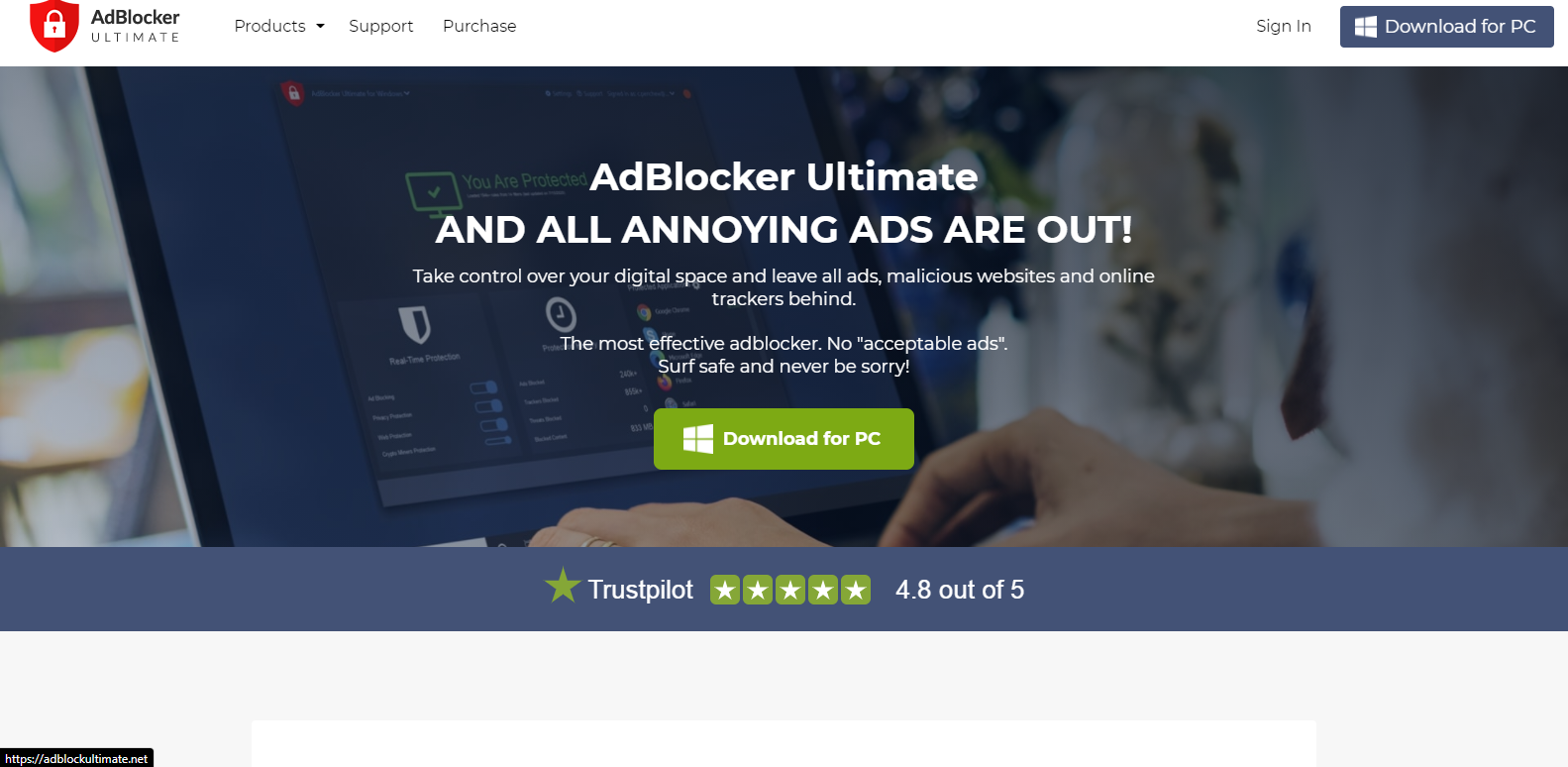 AdBlocker Ultimate is designed to remove all ads to ease up the working of the users.
Features:
This is the best Adblock for Chrome that helps you block ads, tracking, and malware in Chrome.
It is available as an extension in Chrome for free to remove unwanted ads on YouTube, Facebook, Twitch, and other favorite websites.
AdBlocker Ultimate browser extension can be installed for Chrome, Firefox, Edge, Opera, Safari to get a no-ads browsing experience.
Link: https://adblockultimate.net
7. Fair AdBlocker
Fair AdBlocker plugin is yet another popular ad blocker for chrome that blocks Facebook ads, Webmail ads, Search ads, and popups.
Features:
It provides the best AdBlock service for chrome.
It helps you in getting protection from malware, any security threats or online tracking.
You can use this extension to enjoy faster, secure, and private browsing.
You can also allow other websites or certain types of ads you like.
Link: https://chrome.google.com/webstore/
8. Hola ad remover
Hola ad remover is a chrome adblocker extension that helps you to remove all banners and video ads.
Features
It blocks all ads on all websites.
Removes malware from sites and also tracks the site.
Link: https://chrome.google.com/webstore/
9. Comodo AdBlocker
Comodo AdBlocker an open-source ad blocker used for preventing display ads in chrome.
Feature:
This chrome application provides the best Adblock service for chrome and allows you to block unwanted tracking and malware activities.
You can also increase the speed of your browser speed by freeing up your PC's CPU power that is used by cookies and advertisements.
Link: https://chrome.google.com/webstore/
10. Easy Ad Blocker

Easy Ad Blocker is an ad blocker that can automatically block many different kinds of ads. Users can easily video ads, annoying banners, pop-ups and crypto miners, etc.
Features:
This tool helps you to blocks Video Ads, annoying banners and pop-ups.
It Speeds up your navigation.
Easy Ad Blocker saves on bandwidth.
Link: https://www.easyadblocker.com
11. Hulu Ad Blocker
Hulu Ad Blocker restricts access to web content while they are active and is one of the best AdBlock extension for chrome.
Features:
Blocks ads, popup and banners.
It injects code into its video player to block advertisements without detection.
Available in Chrome.
Link: https://chrome.google.com/webstore/

Conclusion
Adblockers can speed up a website's loading and remove ads, banners, and pop-ups from them. These were some of the best adblockers available and you must check them out carefully.