Whenever someone talks about office software, all we can think about is Microsoft office, isn't it? There is no doubt in saying that Microsoft office already got overwhelming control over the world of productivity. Most of our personal computers and laptops are incomplete without Microsoft-made apps such as Powerpoint, Excel, Word, etc.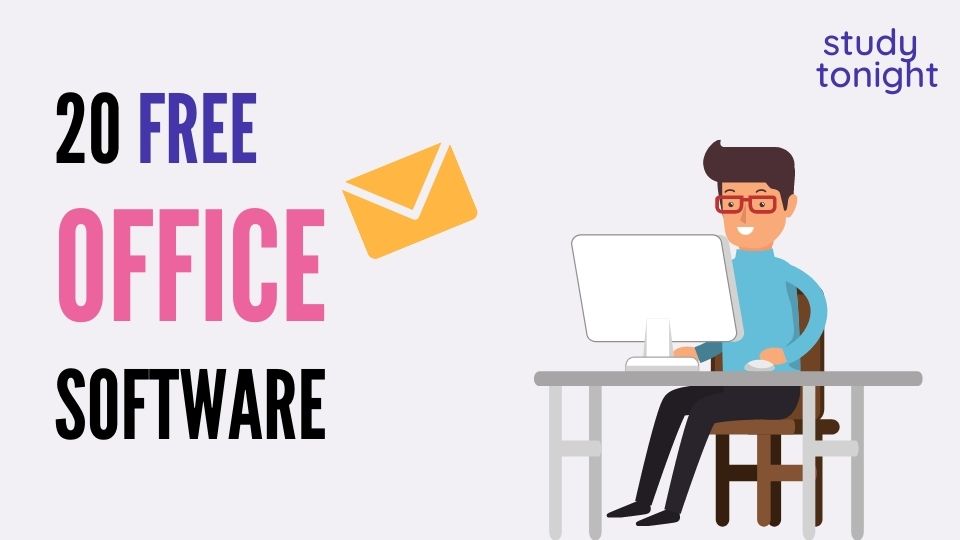 However, you may find Microsoft office software a bit expensive than others. In this article, we are going to list the top 20 free office software suites on the market right now. All of them come with exciting features similarities and differences and some might be better suited to your needs than others. Look out for the one which is suitable for you by thoroughly reading about their features.
1. Microsoft Office Online
Link: https://www.office.com/
As we mentioned above, Microsoft's hefty amount of subscription fee can seem expensive to you. In cases where you're looking for a Microsoft Office free edition, you should use Microsoft office online. Changes in the files can be edited only when saved to your OneDrive account, which means that you need to upload files there to edit them with Word, PowerPoint, or Excel.
Features:
No installation is necessary.
Real-time collaboration with others apps.
Familiar, streamlined Microsoft office apps are accessible in any browser.
Web-based versions of Office apps such as Word, PowerPoint, OneNote, Outlook, and Excel are offered at free cost.

2. LibreOffice

Link: https://www.libreoffice.org/
Libre Office is a free office software with tough competition to Microsoft office in terms of features and documents produced. It is also known as an offshoot of the Openoffice suite.
It is an open-source project maintained by a huge and enthusiastic community of volunteers who are consistently working to improve stability and add new features to the platform's database. There's an extensive selection of extensions and templates to make the platform even more flexible.
Features:
Easy arranging, filtering and storing of data.
LibreOffice allows you to show or hide certain data ranges according to your needs
It offers dynamic charts that help in automatically updating the altered data.
LibreOffice provides real-time data sheets which users can integrate into sheets and reports.
It offers a range of tools such as Base, Draw, and Math tools, which offer similar features as Microsoft Access.
3. Zoho Workplace
Link: https://www.zoho.com/in/workplace/
Zoho Workplace is yet another suite of productivity apps. This free office software offers tools for managing file, word process, presentation, online training, and meetings.
Features:
The platform allows users to take their office suite wherever they go.
The tool has a clutter-free design that helps users like you highlight your stories.
It offers more than 20 themes and 100+ fonts.
Just like any other business communication tools, Zoho also helps you to connect effortlessly with colleagues
It chooses a pre-defined layout to insert a chart from several templates available.
4. Polaris Office
Link: https://www.polarisoffice.com/en/
Polaris Office is a cross-platform office suite that keeps your work in the cloud. If you have a Samsung phone, you might already be aware of the mobile version of Polaris Office. It is available for several operating systems such as Windows, Android, iOS, macOS and it comes pre-installed on some Samsung handsets.
Features:
Desktop and mobile version of apps are available
1GB of cloud storage is included
Polaris office helps you to link with current mobile office solutions.
Let's you share files securely and collaborate with others in real-time.
It merges the mail and label generation.
It is compatible with all Microsoft document formats
Polaris office offers a slick ribbon-based interface with some basic customizable options.
5. WPS Office
WPS Office's three programmes: writer, presentation, and Spreadsheets are completely free and works best as an alternative to expensive Microsoft programmes.
The writer is a replacement for the Microsoft Word programme. Presentation is the alternative to PowerPoint which opens and saves files in formats that can be used in Office or with the free WPS Office. The alternative to Excel is called Spreadsheets and works with Excel 2010+ files
Features:
WPS office Compatible with Microsoft Office file formats.
It opens multiple document tabs.
Eye Protection mode and Night mode available for users.
Supported in operating Windows, Mac, Android, Linux, and iOS operating systems.
There are also Android and iOS versions available for users.
6. Google Drive
Link: www.drive.google.com
Google Drive, a free service offered by Google, creates online documents without the need of downloading any software, thus making it a perfect Microsoft Office replacement. You just need to simply log in with your Google account to create documents, presentations, and spreadsheets.
All of the files that are created with Google Drive are automatically saved to your Google account, which is accessible from any browser at any time and can be shared with anybody, even if they don't have a Google account.
Features:
Google drive offers lots of free cloud storage space.
It has excellent collaboration capabilities.
It allows you to create Docs, Sheets and Slides.
It offers real-time synchronization.
There is also a form feature available which help you to run a survey.
The tool can also be used for macOS.
You can instantly modify your document, presentation and sheet.
8. Softmaker FreeOffice
Link: https://www.softmaker.com/en
SoftMaker Freeoffice is a free office suite tool that allows you to insert 80+ varieties of charts. This free office software offers many tools such as text maker, comparison, plan maker, and presentation
Features:
SoftMaker allows you to build calculations, charts, and worksheets
The presentation tool helps you to create impressive presentations.
You can create an attractive worksheet using features such as headers, footers, and borders.
It supports Microsoft Windows, Windows Mobile, and Linux operating systems.
9. ONLYOFFICE Personal
Link: https://personal.onlyoffice.com
ONLYOFFICE Personal is a free suite of online programs where you can use them from any web browser without downloading the programs. You need to log in with your Google account or make a new one and create documents, presentations and spreadsheets.
Features:
ONLYOFFICE Personal is compatible with Microsoft Office formats.
It has sharing and collaboration features.
The personal version is free for the users.
Upload files from the computer and as well as a few cloud storage services like Dropbox, Yandex Disk, OneDrive, etc.
10. Apache Open Office
Link: https://www.openoffice.org
Helping users to write, draw and calculate, Apache OpenOffice is a completely free office software. It allows users to export spreadsheet directly as PDF files.
Features:
This office suite is completely equipped modern word processor
Offers extensive easy-to-use drawing and diagramming tools
It provides an autocorrect dictionary
Users can use a Portable Document Format (.pdf) to send files.
11. Dropbox Paper
Link: https://www.dropbox.com/paper
Dropbox Paper workspace brings creation and coordination together in one place. It also lets users comment on a specific part of an image.
Features:
It allows users to assign to-dos and add submission dates in projects.
Creation of meeting notes
Capture inspiration on your phone or tablet devices.
12. SSuite OmegaOffice HD+
Link: https://www.ssuiteoffice.com/software/ssuiteomegaofficehd.htm
SSuite OmegaOffice HD+ is a free office software for Windows operating system. Word graph is an alternative to MS Word and Accel to MS Excel. It also has few other programs such as photo editor, presentation and image viewer and other various useful programs for all your needs.
Features:
It has a multi-Display compatible
It consists of tabbed Document Interfaces
Users can custom text and phrases lists
Users can easily create WordArt and Math Equations or Expressions in WordGraph
Documents can be exported into a range of formats such as PDF, PNG, GIF, JPG amongst others
13. Quip
Link: https://quip.com/
Quip for Customer 360 is a new way that offers a complete suite for creating documents, spreadsheets, and slides.
Features:
Users can embed their spreadsheets into documents.
A team chat option built every document to smoothen the workflow
Quip has team-based slides that quickly help users to get the right decision.
14. SmartSheet
Link: https://www.smartsheet.com
Smartsheet is office software that offers for collaboration and work management which is developed and marketed by Smartsheet Inc. This service is used to assign tasks, track the progress of projects, manage calendars, share documents amongst teammates, and use a tabular user interface to manage others.
Features:
The service allows users to automate workflow, including forms.
Live reporting is supported.
Allows collaboration with others
Supports mobile application integration with other applications such as Slack, Google, and Salesforce.
Allows managing salesforce and document sharing.
15. FengOffice
Link: https://www.fengoffice.com/web/
Feng Office Community Edition is an open-source office suite that has been created and supported by Feng Office and the OpenGoo community.
Features:
Promotes teams to work together
Human errors are reduced.
Creation and editing of documents within the system
Tracking of daily activities
Allows managing of other user's permissions, settings, and many different configuration options by the administration panel
Time tracking for a project
16. OxygenOffice
Link: https://www.oxygenofficepro.com/
OxygenOffice Professional is somewhat a better version of free OpenOffice.org. The free office software includes more templates, clipart, samples, fonts, and other features
Features:
The writer tool is used to create a quick letter to producing an entire book.
An impress is a presentation tool that helps in the creation of effective multimedia presentations.
The base tool is manipulation for databases seamlessly.
Math tool helps in creating mathematical equations with a graphic user interface.
17. iWork
Link: https://www.apple.com/iwork/
As the name suggests, this software is built for macOS and iOS operating systems by Apple Inc. This platform is also available cross-platform through the iCloud website.
Features:
Sensational looking documents can be created through the pages tool
Beautiful text and spectacular slides can be designed
It offers about 70+ Apple-designed Document Templates.
Users can create and deliver stunning presentations
Keynote tools are used for creating and delivering stunning presentations.
18. Calligra
Link: https://calligra.org/

Developed by KDE, Calligra Suite is an office suite that has been made available for PCs, tablet computers, and also mobile phones smartphones. There are many applications included in the software
Features:
Build spreadsheets with formulas and charts. Users can also calculate and organize their data.
KEXI app is used for designing database applications, inserting and editing some information, carrying out queries, and processing data.
Karbon tool in the software is a dedicated vector drawing application with a user interface that is pretty easy to use.
19. Neo Office
Link: https://www.neooffice.org/neojava/en/index.php
Developed by Planamesa Inc, NeoOffice is free office software that is built for the macOS operating system.
Features:
Automatically uses the macOS Dark Mode when enabled on macOS.
Previous versions of files are saved or restored
Just like Apple's Safari and TextEdit applications, the software helps users to draw highlighted text.
20. Office 42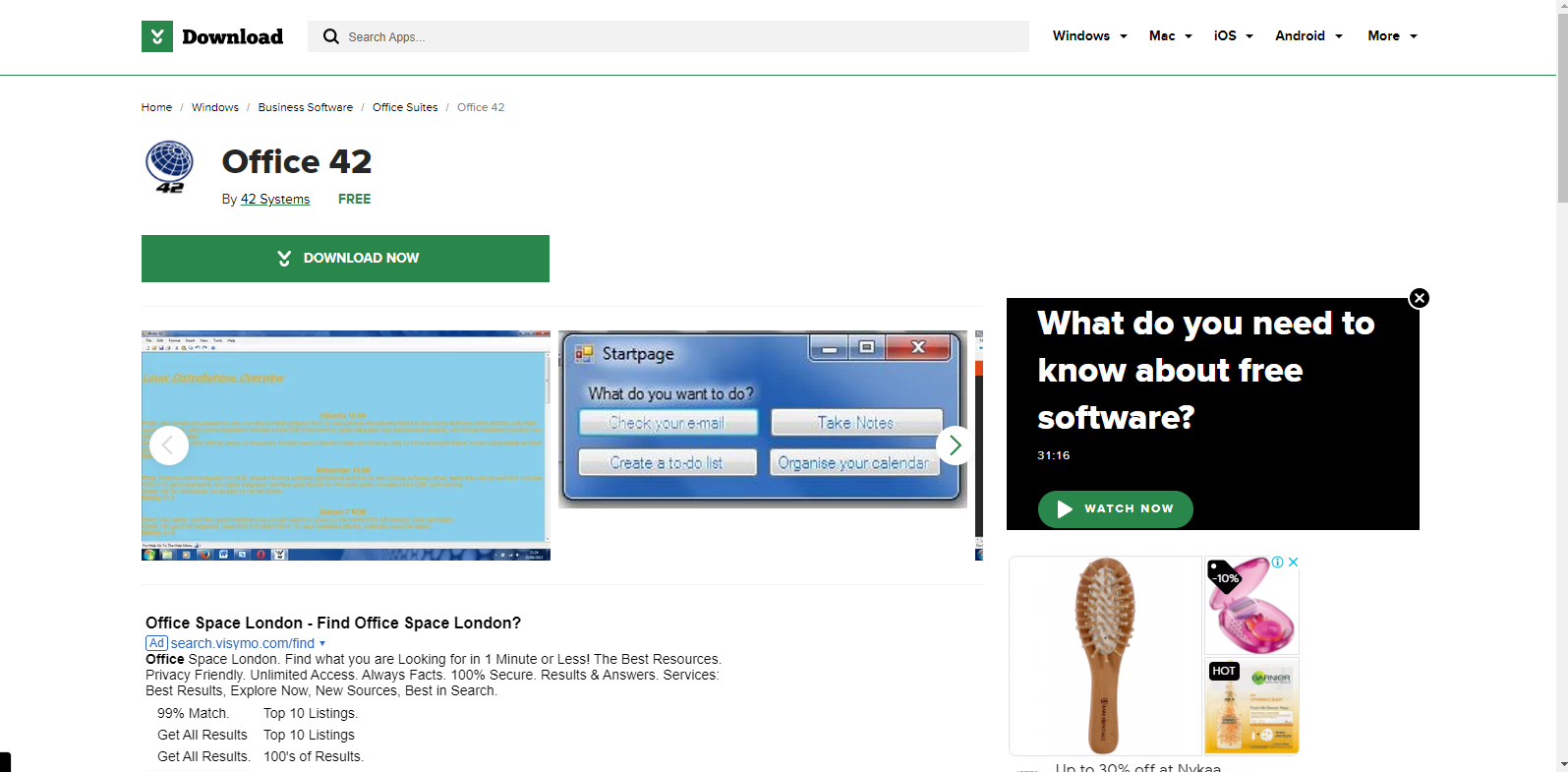 Link: https://download.cnet.com/Office-42/3000-18483_4-76046110.html
Office 42 is a very small free office software. It has a Writer, Browser, and Organiser in its software.
Features:
The writer tool is used for simple editing or creating RTF files.
Organize tool can be used to take short notes in TXT format and to create TO-DO list in CSV format. It contains an email checking facility.
Browser is a very small web browser and it has a Bookmarks menu also that helps users to create and manage the bookmarks easily.
Conclusion
Now that we have provided a list of top free office software, you might be able to find the one for you! The above-mentioned software is not going to cost you even a penny, so make the most of it.
You may also like: