If you have accidentally deleted or lost your files, you might get your files back. Data recovery software helps you to get your files back for free. Data recovery software makes it simple and easy to restore deleted files and folders on your Windows PC/laptop. Here, we have a list of some free software tools that you can use to get your data. Let's get started.
1. Puran File Recovery

Puran File Recovery is a free data recovery tool for Windows 10, but it only works for the home user and not for business or commercial.
Features:
It shows two ways to view the list of deleted files.
It supports running as a portable version.
It scans NTFS and FAT12/16/32 file systems to recover files.
It's quite easy to check whether the file can be recovered well.
Link: http://www.puransoftware.com/
2. Recuva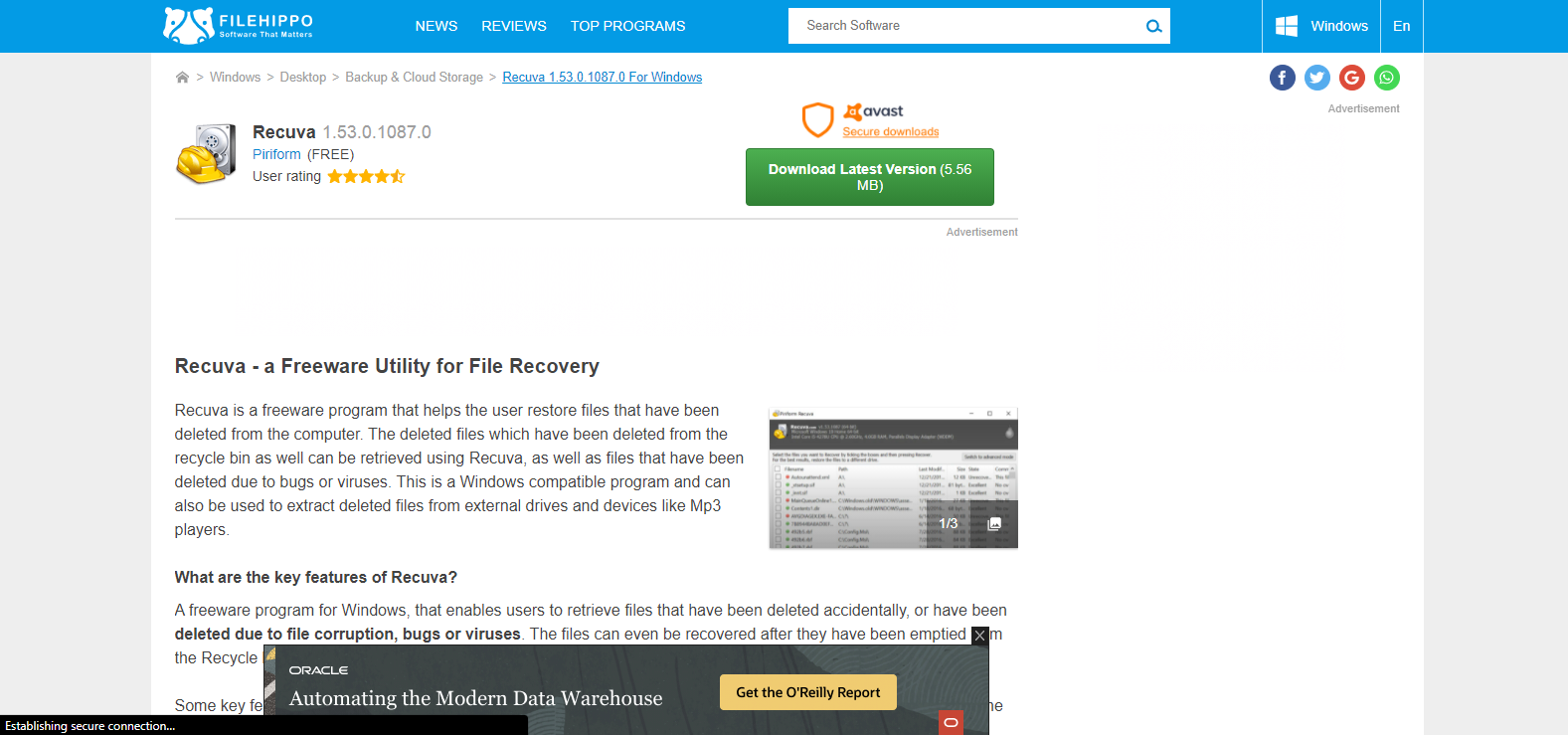 Recuva restores your undeleted files from the hard drive in Windows 10, recycle bin, and USB flash drive. It is a 100% fee recovery software that works well in Windows 10, Windows 8/7, Vista, and XP.
Features:
A portable option is available.
Lots of advanced options.
A wizard walkthrough makes it easy to use.
Works on most Windows operating systems.
Link: https://filehippo.com/download_recuva
3. Disk Drill
Disk Drill is a free data recovery program that is designed for Windows and Mac. It can easily recover files from any storage devices such as a computer hard drive and external SD Card, USB Drive, and hard disk.
Features:
The disk drill organizes deleted files by category for easier viewing by users.
It helps you to filter the results by size and/or date.
Supports a quick and deep scan mode for recovering files.
Works great with the different operating systems.
Link: https://www.cleverfiles.com
4. Stellar Data Recovery

Stellar Data Recovery software is a powerful and free data recovery for Windows operating system. This service recovers data from any devices such as computer hard drives or laptops, USB drives, and Micro SD cards amongst others.
Features:
Unlimited data on Windows devices and storage media can be recovered.
Data is also recovered from crashed window systems
The encrypted drive is used to recover deleted files.
Image of a hard disk for is created a speedy recovery.
It recovers up to 1 GB of lost or deleted data on Windows, absolutely free.
Link: https://www.stellarinfo.com
5. Recoverit Free Data Recovery

Recoverit Data Recovery software is available for free to recover files in Windows 10. It supports recovering deleted, lost or formatted data from a PC or laptop, hard drive, USB flash, or any other removable devices.
Features:
Users can preview recovered files.
Wondershare Recoverit provides 24x7 technical supports.
It is virus-free.
It helps you to recover deleted photos, videos, emails, or any other important file.
This tool supports Windows PC, hard drive, USB, SD card, and more.
Link: https://recoverit.wondershare.com
6. Tenorshare

With Tenorshare, you can recover more than 550 files without any problem. It can also be used to restore any lost or formatted files from the computer.
Features:
Files from removable devices such as memory cards and dynamic disks can be recovered.
Photos, music PDF, videos, emails, and more can be also recovered.
File preview before recovering is also available
Easy restoring of your data by selecting the location and clicking on the recover button.
Link: https://www.tenorshare.com
7. Wise Data Recovery
You can restore your deleted photo or file from wise data recovery. It is a system utility tool that can get all your important data from the removable drive or local computer.
Features:
You can select file types before scanning.
This tool also previews the details and recoverability of the files before starting the recovery process.
You can even retrieve essential data without installing it.
Wise data recovery is compatible with all windows versions.
You can easily recover your lost videos, documents, emails, etc.
Link: https://www.wisecleaner.com/wise-data-recovery.html
8. EaseUS Data Recovery Wizard
EaseUS Data Recovery Wizard happens to be the most demanded data recovery software in the market. This tool offers various unique functionalities such as Corrupted data recovery with various file systems supported at a time and finds the lost data instantly.
Features
It scans your files with various filters.
Helps to recover accidentally deleted files.
Partition recovery also available.
Live Preview of Recovered data is also accessible.
Link: https://www.easeus.com
9. Glary Undelete
Glary Undelete is an excellent, free data and easy-to-use recovery software. It has one of the best user interfaces.
Features:
It provides the State of the file which explains very clearly whether the file will recover fully
The downloaded file is very small
It also shows a list of deleted files is easy and user friendly
Link: https://www.glarysoft.com/glary-undelete
10. Unformat

Unformat hard drive is one of the best utility tools that solve almost all data loss situations. This service helps you to recover all deleted files on a disk even after using the format command.
Features:
You can easily recover formatted Hard Disk Drives, Memory Cards, and USB Flash disks.
The advanced version of this software enables you to recover files from Windows, Apple, Unix, and Linux.
You can also restore your data from the memory card.
It has a user-friendly interface design.
Link: http://www.unformat.com/index.html
11. Active UNERASER

Uneraser is a data recovery software that can recover deleted files in Windows 10 for free. It also recovers files on Windows and other operating systems. This program display both physical and logical drive data.
Features:
Users have the choice to undelete damaged volumes and partitions.
It also helps you to get data from accidentally deleted files from HDD, Solid State Drive, SD card, and USB drive.
You can even unerase data from disk images.
You can also scan and recovers disk partitions damaged by a virus.
Basic and Thorough are two types of devices and drives scans.
Link: https://www.uneraser.com/undelete.html
12.TestDisk

Designed to recover unerase deleted files and lost partitions, TestDisk is an open-source data recovery software. You can use this software to restore any file if it is removed due to a virus or human error.
Features:
It fixes the partition table and recovers deleted partition.
This is a free Mac data recovery software that can undelete files from the exFAT, FAT, and NTFS file systems.
This tool is also supported on DOS, Linux, macOS, and Windows platforms.
It can also fix Master File Table using the backup of the first 4 NTFS system files.
Link: https://www.cgsecurity.org/wiki/TestDisk
13. CD Recovery Toolbox

CD Recovery Toolbox enables you to select a specific folder to recover. This hard drive recovery software program can quickly recover data or information in the damaged file.
Features:
You can recover your data from CD or DVD.
CD Recovery Toolbox can retrieve files larger than 4 GB.
It can also detect a lack of free space.
You can access this tool for an unlimited time.
It can also help in locating files and folders available on CD.
Link: https://recoverytoolbox.com/cd.html
14. PCInspector

With the help of the PCInspector tool, you can recover any file with the original time and date. This disk data recovery software facilitates saving on a network drive.
Features:
Numerous languages such as English, French, and German are supported.
PCInspector offers help in HTML.
It can find partitions automatically, even if the boot sector is entirely damaged.
Link: http://www.pcinspector.de/default.htm
15.WinHex

WinHex is a professional data recovery tool that helps the user to recover deleted files. This software can work on any file system and recovers all files at a time.
Features:
Winhex supports JPG, PNG, BMP, and many other file types.
You can also recover files by name.
It has an automated feature that helps you to use existing file headers.
Link: http://www.winhex.com/winhex/index-m.html

Conclusion
We all want our data safe, but sometimes it might get deleted due to a virus. In such cases, we search for data recovery software. These were a few lists of data recovery tools that might be helpful for you.