We often find ourselves stuck in a situation where we feel the urgent need for grammar checker software so that our writeup doesn't look bad in front of colleagues, teachers, and mates. To avoid these blunders we often hop onto software like Grammarly.
But you might want an alternative to Grammarly, which is why we have mentioned the 14 best alternatives for you. Keep reading and find the best one for your texts.
1. ProWritingAid

One of the best Grammarly alternatives is known as ProWritingAid. This software is an all one program for checking grammar, style editor, and writing.
Features:
This software offers more than 20 In-Depth different Reports.
ProWritingAid can operate on Mac and Windows operating systems.
It uses word explorer for the right words.
It checks your spelling, grammar, and punctuation.
Visit Link: https://prowritingaid.com

2. WhiteSmoke

WhiteSmoke is a one-stop destination for your English writing needs that helps to check grammar, spelling, punctuation, and style checks. This software employs natural language processing (NLP) technology that goes beyond grammatical and typographical corrections by improving your texts.
Features:
It offers a Grammar Checker.
Spell Checker feature available.
Style and Punctuation Checker.
Inbuilt Translator in the software.
Visit Link: http://www.whitesmoke.com/
3. Scribendi

Another great alternative to Grammarly is scribendi.com. This software offers a professional online editing service for all types of content formats. You can check 10,000 words every 24 hours.
Features:
Scribendi offers a proofreading service for students.
There's also an essay editing service.
Proofreading function for corporate material is offered.
To edit your documents a grammar checker service is available.

Visit Link: https://www.scribendi.com/
4. Slick Write

Slick Write is a perfect tool to highlights your mistakes in your paragraphs. From minute to big blunders are highlighted such as passive voice, adverbs redundant sentences, and common starting words, etc.
Features:
This software displays key Statistics.
It offers a prepositional phrase index.
You can even check the Readability index.
It checks your content structure, length of sentence, and word length.
Visit Link: https://www.slickwrite.com/#!home
5. After The Deadline

After the Deadline is a free grammar and spellcheck application for your content. You can detect errors and smart suggestions are offered for your content.
Features:
This software provides open-source code.
It has an advanced style checking feature.
After the deadline offers grammar checker tools.
It detects your misused words.
This software also offers an explanation for your errors.
Visit Link: https://www.afterthedeadline.com/
6. Hemmingway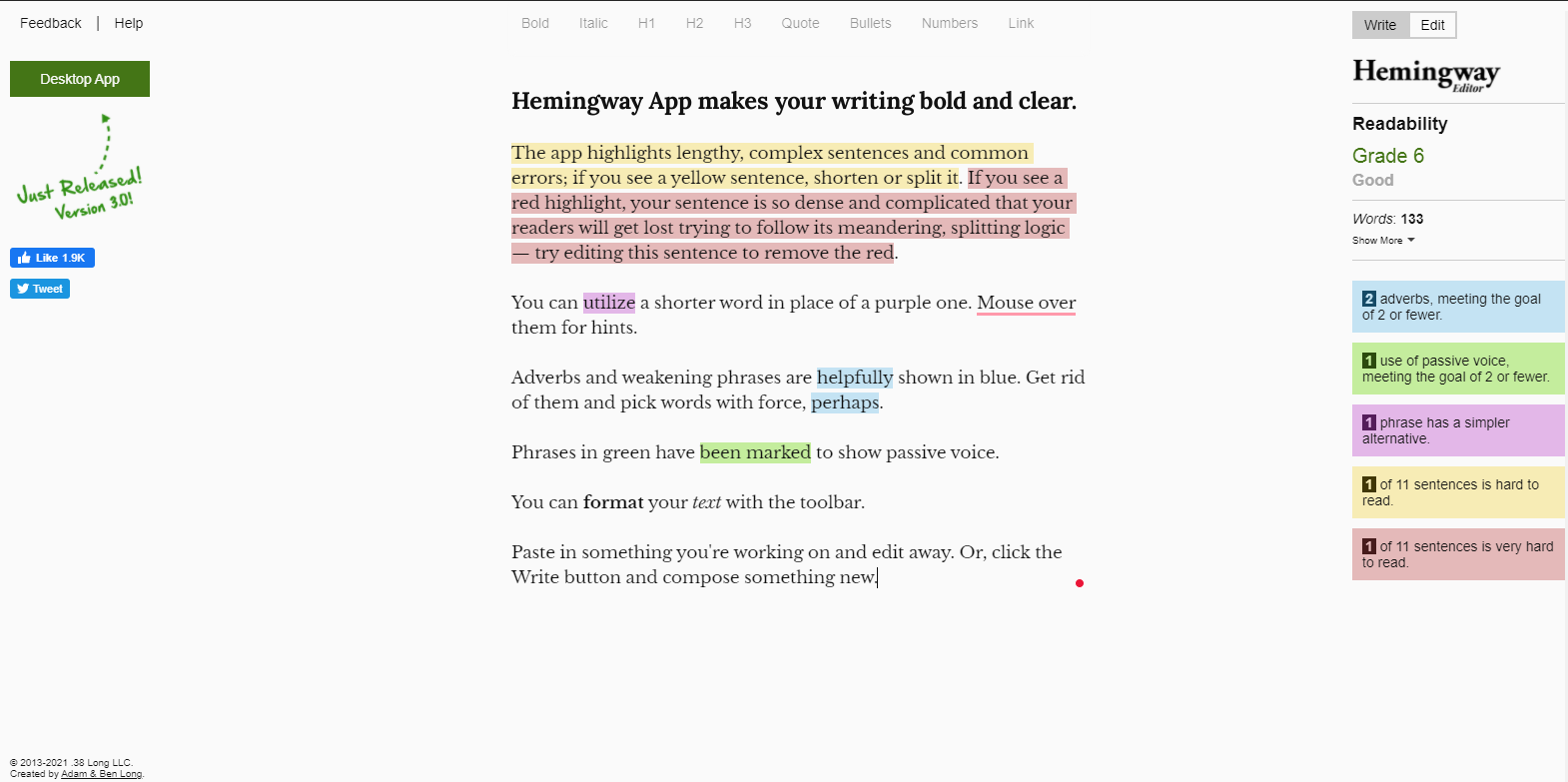 The Hemmingway editor was designed as an alternative to the Grammarly tool put more focus on the readability of the text. It targets lengthy sentences, inappropriate adverbs, and complicated words.
Features:
Hemingway has a clean simple user interface.
It doesn't require a network connection.
Breaks large sentences in smaller to make them more readable.
This software improves readability for the average user.
Offers detailed Suggestions and pointers.

Visit Link: http://www.hemingwayapp.com
8. Virtual Writing

Virtual writing is popular and widely used by bloggers, writers, and professionals. It performs various checks related to spelling, grammar, punctuation amongst others. It has an inbuilt word count feature where you can see the number of words in a content.
Features:
It checks and enriches the vocabulary of texts.
It targets structures.
Virtual writing also offers grammar error correction games.
Visit Link: https://virtualwritingtutor.com/
9. Online Correction

You can find and highlight the errors with OnlineCorrection.com. It is yet another alternative to Grammarly which quickly proofreads any text.

Features:
It performs grammar and spelling checks.
Online correction checks stylistic issues
Auto-correction of inappropriate texts.
This software supports English dialects.
Visit Link: https://www.onlinecorrection.com/

11. PaperRater

PaperRater software offers extensive services by carrying out grammar, spelling, and action checks. It has a built-in plagiarism checker feature. It has a free and paid plan. In the free plan, you will be only able to know what percentage of your text is plagiarized.
Features:
It checks the grammar & spelling of the text.
Integrated plagiarism check tool.
Results are instantly provided.
Accurate writing suggestions are offered.
Visit Link: https://www.paperrater.com/
12. Grammar Check
GrammarCheck is a web-hosted service and tool that can help you to write your content more effectively and flawlessly. Your content can be checked by directly type or copy-paste a write-up into a given dialogue box.
Features:
Basic checking of grammar and spelling mistakes.
It is web-hosted and easy to access from anywhere, anytime.
It's simple to use by simple copy-pasting of content.
GrammerCheck displays information about capitalization, punctuation, and spelling rules.
Visit Link: https://www.grammarcheck.net/editor/
13. Ginger Software

You can write better text with Ginger Software. This software employs patent-pending technology that allows you to correct mistakes related to grammar, spelling, and misused words.
Features:
Ginger Software is free software that allows contextual spelling correction.
Mistakes are corrected according to Subject, verb, and agreement.
Misused words are corrected.
Written texts are corrected with ease.
Visit Link: https://www.gingersoftware.com/grammarcheck
14. QuillBot

Developed by Keiji, QuillBot aims to develop artificial intelligence technology with human-level proficiency in paraphrase generation to help users communicate more effectively and clearly.
Features:
It rephrases your sentences.
It offers Quill Modes.
Word Flipper tool.
It is available on Google Chrome Extension
You can easily add it in Google Docs and Microsoft Word.
Link: https://quillbot.com/
Conclusion:
According to most people, ProWritingAid and WhiteSmoke are the best alternatives to Grammarly. But we suggest you first try Grammarly as it is the most advanced tool which can detect more than 400 simple to advanced grammatical mistakes and also proves good for vocabulary enhancement to your texts.